What is a PTFA?
We are a friendly group of parents, carers, teachers and friends that organise fun social events throughout the year to raise funds for additional equipment for the school. PTFA stands for Parents, Teachers and Friends Association and we help raise money for needs identified by the children and the school. This year, we have paid for an artist to visit the school during our annual art week to work with the children to make Christmas themed lanterns; the Year 6 leavers Bibles and for the VIP treat. We are hoping to raise lots of funding over the next year towards class iPads, class novels and equipment for the playgrounds.
Who can join the PTFA?
If you are a parent/carer/friend with a heart to help the school we'd love you to join us. Our PTFA meetings are a great way to get involved with upcoming events. We understand that not everyone can make these meetings and appreciate parents donating requested items for our Summer and Christmas fairs and offering an extra pair of hands at any of our events.
Which events do the PTFA organise?
Christmas & summer fair – these events provide fun for all the family with lots of stalls, prizes and a raffle.

Film nights

Bingo and quiz evenings

Sports day stalls
We also welcome new ideas from parents and are in the process of creating a suggestions box near the school office.
Meet the members:
Chair of PTFA- Elaine Corless
Vice Chair of PTFA- Amy
Secretary- Sally Lee
Treasurer- Nicole Dodd
Trustees-
Our next official meeting will be on (TBA) to discuss future events. We hope to see you there.
We need your help!
If you are an Amazon shopper, you can help! If you visit www.smile.amazon.co.uk and add our PTFA charity to your account (type in the charity number 1022571), we can earn money for free!
You just have to remember to visit that site when placing your Amazon orders or turn on AmazonSmile through the app:
Open the Amazon Shopping app on your device.

Go into the main menu of the Amazon Shopping app and tap into 'Settings'.

Tap 'AmazonSmile' and follow the on-screen instructions to complete the activation.
It's that simple and is no cost to you at all.
Also, when you visit certain shopping sites online you could help raise funds too! Just visit the following website to find out more: www.easyfundraising.org.uk/causes/stjosephscatholicprimaryschoolptfa/
Please tell your family and friends, as every penny we can raise during these difficult times can be used to support any ideas that are brought forward to the PTFA, to further strengthen our school.
Thank you,
Mrs Dodd
PTFA treasurer
Upcoming Events
TBA
Previous events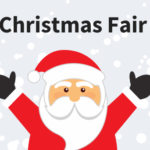 On Friday 3rd December 2021 we held our annual Christmas Fair. We invited local businesses to showcase and sell their items as well as having our own stalls!  It was a massive success!
We raised over £1100, which means we are able to order new reading books for our children! Thank you to everyone who donated items and visited on the day. We couldn't have done it without you!
A special thank you goes to the following businesses who either attended or donated a raffle prize:
T

ickled Pink at Asda

Bay Sweet Shop 

The Growing Club

K. Design and Prints 

Laura for Forever Living 

Becky for Usbourne Books