Attendance 2021/2022
At St Joseph's Catholic Primary School, we aim for every child to reach their full potential.  Research shows that children achieve better if they are on time and have good attendance.  To provide children with the best education, we aim for every child to achieve at least 95% attendance, with a goal of achieving 100%.
Good attendance is important because:
Statistics show a direct link between higher achievement and good attendance

Regular attendees make better progress, both socially and academically

Regular attendees find school routines and schoolwork easier to cope with

Regular attendees find learning more satisfying

Regular attendees have an easier transfer to secondary school
Last year we achieved a whole school attendance of  95.1%, so we are setting our target this year at 97%.  To achieve this, we need the support of all parents in ensuring pupils attend regularly and punctually and any appointments are made outside of school hours.
At St Joseph's Catholic Primary School, we code attendance into green, amber, and red categories:
Green             100% – 95%
Amber           94.9% – 90%
Red                Below 90%
If we are concerned with your child's attendance you will receive a letter to inform you of their attendance figures, regardless of whether this is authorised or unauthorised.
At St Joseph's Catholic Primary School, we encourage good attendance by:
Presenting a weekly 'best class attendance' trophy in assembly, displayed on our attendance rocket and 'Hayley's Comet'.

Presenting individual certificates each term for pupils who achieve 100%

Rewarding the class who achieve the most weeks of highest attendance in a term with a whole class treat.

Rewarding pupils who achieve 100% attendance for the whole year with

a certificate and prize.
Attendance and punctuality are monitored regularly. Our main objective is to support pupils and their families in raising attendance.  If attendance falls below 95%, your child's attendance will be monitored by the school.  Letters may be sent home and you may be invited into school for a meeting, receive a referral to the pupil attendance team or your child may be placed on an attendance intervention plan or alternative school based intervention.
If your child does fall ill or cannot attend school due to exceptional circumstances then please ensure you contact the school on the first day of absence stating the reason.  If the school does not receive an explanation for absence or if the explanation is unacceptable, then the absence will be marked as unauthorised. If pupils are absent frequently for medical reasons, then a medical note may be requested.
Holidays during term time are discouraged as there are a total of 175 non-school days in one year.  Holiday absence must be sought from the Head teacher.  However, if attendance is below 90% the Head teacher will not authorise Holiday absence, unless there are exceptional circumstances.  Holidays will not be authorised during test week which usually falls within the first 2 weeks of May each year.  Unauthorised absences can lead to legal action resulting in a Fixed Penalty Notice.
A Fixed Penalty Notice can be issued where a pupil has accrued 10 unauthorised absences in term time (AM and PM count as separate absences) or for late registrations (more than 10 occasions in one term) or 14 unauthorised absences over two consecutive terms.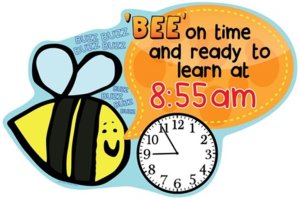 Absence and lateness disrupt the education of the individual child and the whole class and can be highly distressing for the child. I have included a table to show what attendance % really means in relation to the number of days lost in a school year and a punctuality poster to show how lateness seriously affects the education of children.
I would like to take this opportunity to congratulate all parents who ensure their child is attending school regularly and punctually and therefore benefiting fully from their educational opportunity.  If you do have any problems with getting your child to school, then please contact us – we are here to help!
I look forward to working together to achieve our school target of 97%.
So, what does Attendance and Punctuality Really Mean? 
Please look at the percentages and punctuality times below to see how many days of education children miss if they are consistently late or miss days of school.